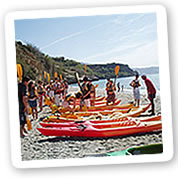 Educare Aventura carries out programmes of sport activities in contact with nature we give each activity a pedagogical approach.Our aim is that the participant, not only enjoys the activity but also learns something else about: The flora and fauna of the area.
The culture and gastronomy of the towns visited, safety techniques in activities and also our guides and monitors will share much more with the participants based on their large experience.
Visit our section of activities, where you can find our update list of programmed.