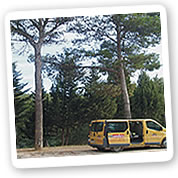 Educare Aventurawas created in 1977 based on courses of sport activities in contact with nature. Its aim is to carry out programmes in the area of non formal education: environment, sports, social and cultural, free time and leisure activities, etc.
Since the year 2000, there is a new section of sports and nature activities. In this section, there are programmes for young people like: canoeing, horse riding , night excursions to natural places , trekking , adventure sports for beginners , specific trainning courses: trekking and orientation, etc. After three years of good work and excellent results, an "autonomic" service was created,regulated by the new law for Active Tourism. Then in the year 2004, the Company called EDUCARE AVENTURA, for active and rural tourism, was created.
Educare Aventura S.L. is a young company aspiring towards high quality service. Composing of a highly qualified interdisciplinary team, with large experience in the areas of active and rural tourism.